Published on 26/09/18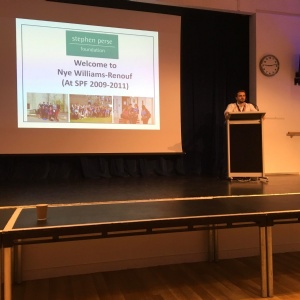 Alumnus Nye Williams-Renouf (at SPF 2009-2011) returns to school for Inspire & Guide
In early September, Nye Williams-Renouf (at SPF 2009-2011), one of the first boys to attend our sixth form, visited SPF to speak to our Year 10-11 students about his life since leaving SPF in 2011.
After briefly outlining his work as a policy adviser and private secretary at HM Treasury, touching on officials' interaction with ministers and a typical 'day in the life', Nye reflected on his path from SPF to the civil service. He dwelt on the unexpected experiences he had gained from pursuing interesting opportunities as they arose (including putting his Law degree at Cambridge on hold to complete an Erasmus year reading Politics in Madrid, and moving to New Zealand to teach English Literature before completing an MA in EU International Relations at the College of Europe, in Belgium), and urged students to keep an open mind on where they wanted their lives to take them.
Linking his subsequent journey back to his schooldays, Nye highlighted that his universities and employers invariably had cared less about which specific activities applicants had pursued in their spare time than about the ability to engage critically and constructively, and reflected on how SPF encourages those qualities in its students. He wrapped up by strongly encouraging the audience to pursue extracurriculars that they were passionate about, but also challenge themselves to seek out stretching new experiences. This was perhaps unsurprising, given Nye set up SPF's Model United Nations society on first joining the foundation; the society, he was delighted to hear, continues to flourish almost a decade later.